Choosing Fine Art For Decor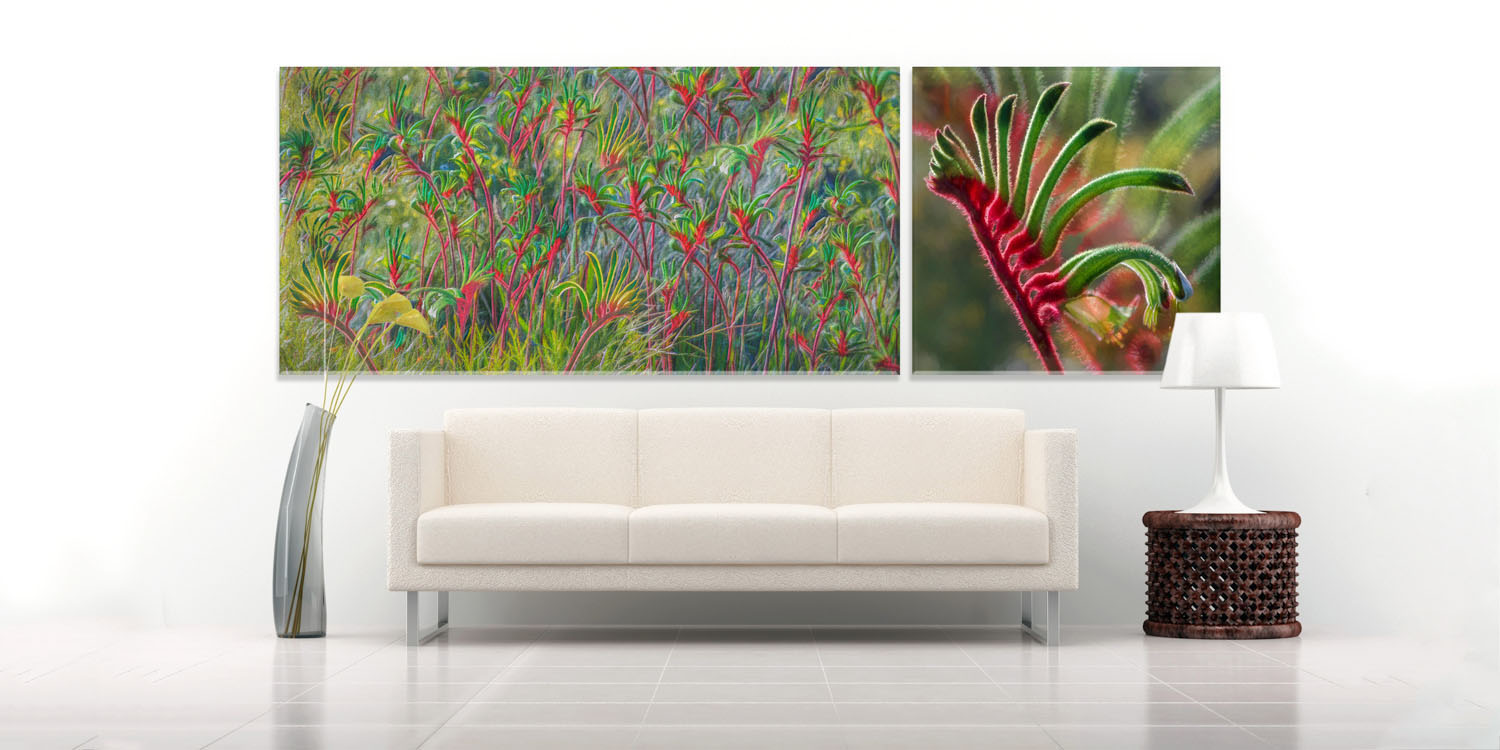 Decorating our homes with artworks that represent joyful memories can bring a smile to our face and warmth in our hearts. Of course, this is the primary reason we hang art on our walls. This collection is intended to trigger your memories, after all, that is what art is all about and this page is designed to inspire ideas for enhancing your work and living spaces.
Print ratios and sizes
While the ratio is an important issue when designing decor I have chosen to treat a more detailed discussion on ratios under CHOOSE BY SUBJECT; in summary, an aspect ratio is simply the proportional relationship of the width to the height of an image. Ratios 1:1, 1:2, 1:3, 3:4; 4:5 and 2:3. The size of the print, of course, is an entirely different matter. Choosing a size that a. fits your budget and b. suits the ratio of the empty space you intend hanging the print. The budget also relates to finishing (more under CHOOSE BY FINISH on this Gallery site. Canvas prints which are stretched over frames, paper prints that require border mats and frames and of course metal and acrylic which can be framed, however, do not require the cost of a frame all require balancing with your personal taste and of course your budget can all be selected under FINISHES and can be checked for price as each image is determined throughout the site at the point of purchase in the Gallery. I think the best way to decide on size is to cut a cardboard/paper panel the size of the print and wall-mount it in the space you wish to decorate. Above is an example of a framed 1:2 ratio print in four sizes would appear in any selected wall space.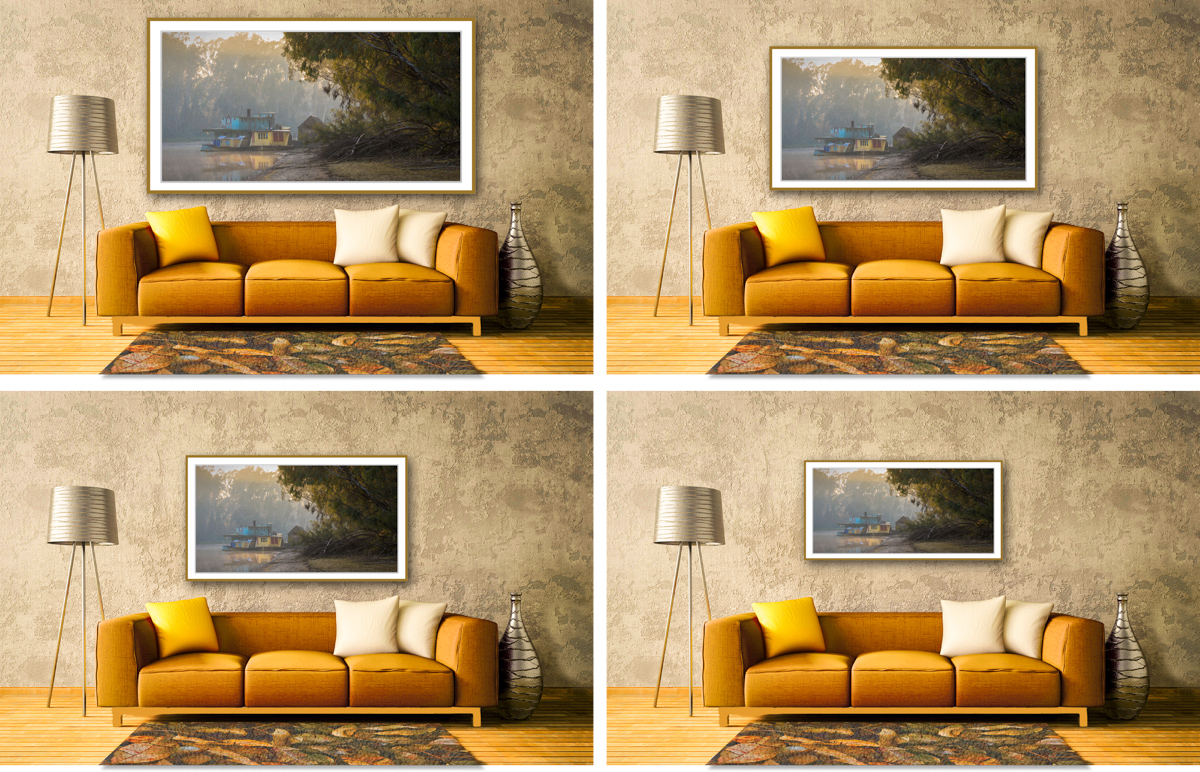 Choosing by theme, finish and artistic style
What makes the setting above work so well is that the pastel, muted image colours blend well with wall and floor colours which have similar tones; of course pastel walls may also welcome bold, brash colours, it is a matter of personal taste. Choice of the subjects as they relate to each other can also be a factor as they do here having followed a 'waterbird/water reflection theme'. As a collection these images are impactful. They also have a corresponding artistic style, a gentle, soft watercolour painterly effect. The last element relates to print finishes. Here the images are all borderless and the effect that can be achieved particularly well as stretched canvases, metallic and or acrylic prints. Frames, in this circumstance, would break the relationship between the prints and the walls; of course, all these issues are a personal choice. A similar concept could be repeated across many, many subjects from abstracts to wildlife, wildflowers to lush green rainforests.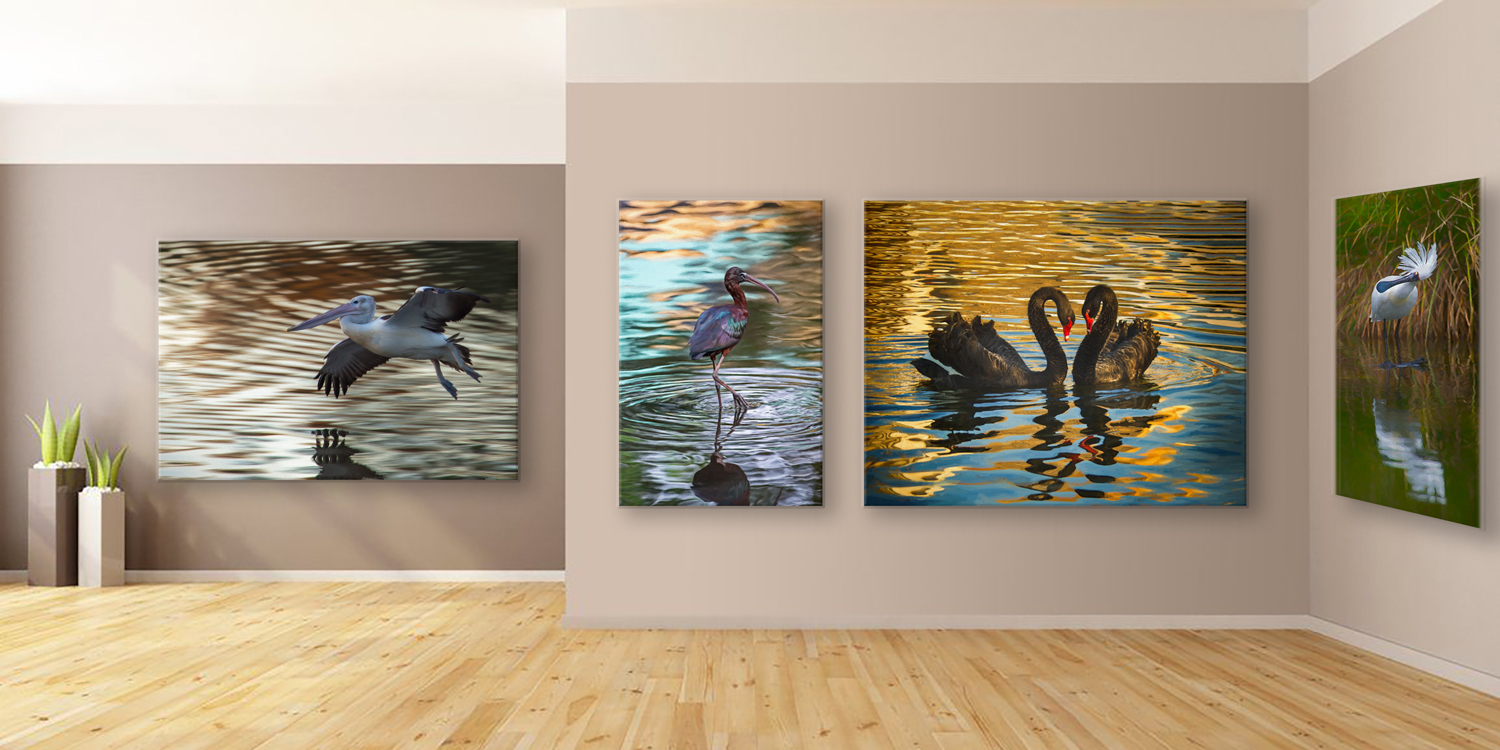 Our themes are many and varied. They can be based on wild habitats like wetlands, costs, arid lands, forests, woodlands, mountains, birds, mammals and the list goes on. Or even more creatively, on a mixture of content that tells a story of a wild place. Maybe a wild place close to your heart like the one above, the tropical rivers, lakes and floodplains of northern Australia
Choosing by Colour and Finish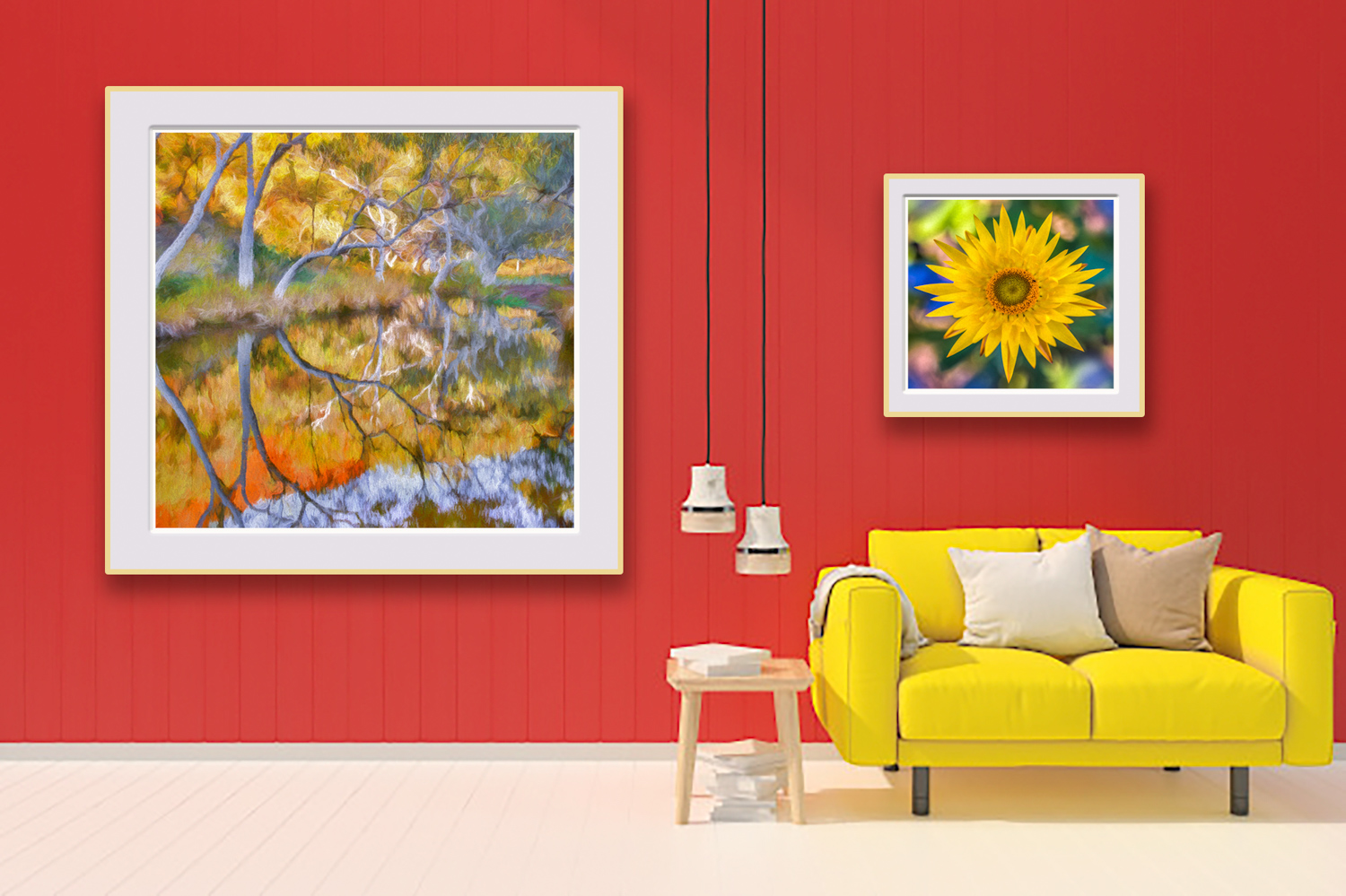 Bold, graphic room decor colours cry out for bright, colourful images, this Gallery is filled with artworks of this nature; especially in the bird, wildflower and marine collections. In the decor situations above and below, a defining print mat and frame provide some separation from the wall colours. In circumstances where walls are muted (see below), you may choose to select images that work with existing furnishings. In these cases, you may decide to take advantage of the canvas wrap, acrylic and or metal finishes each of which requires no frame.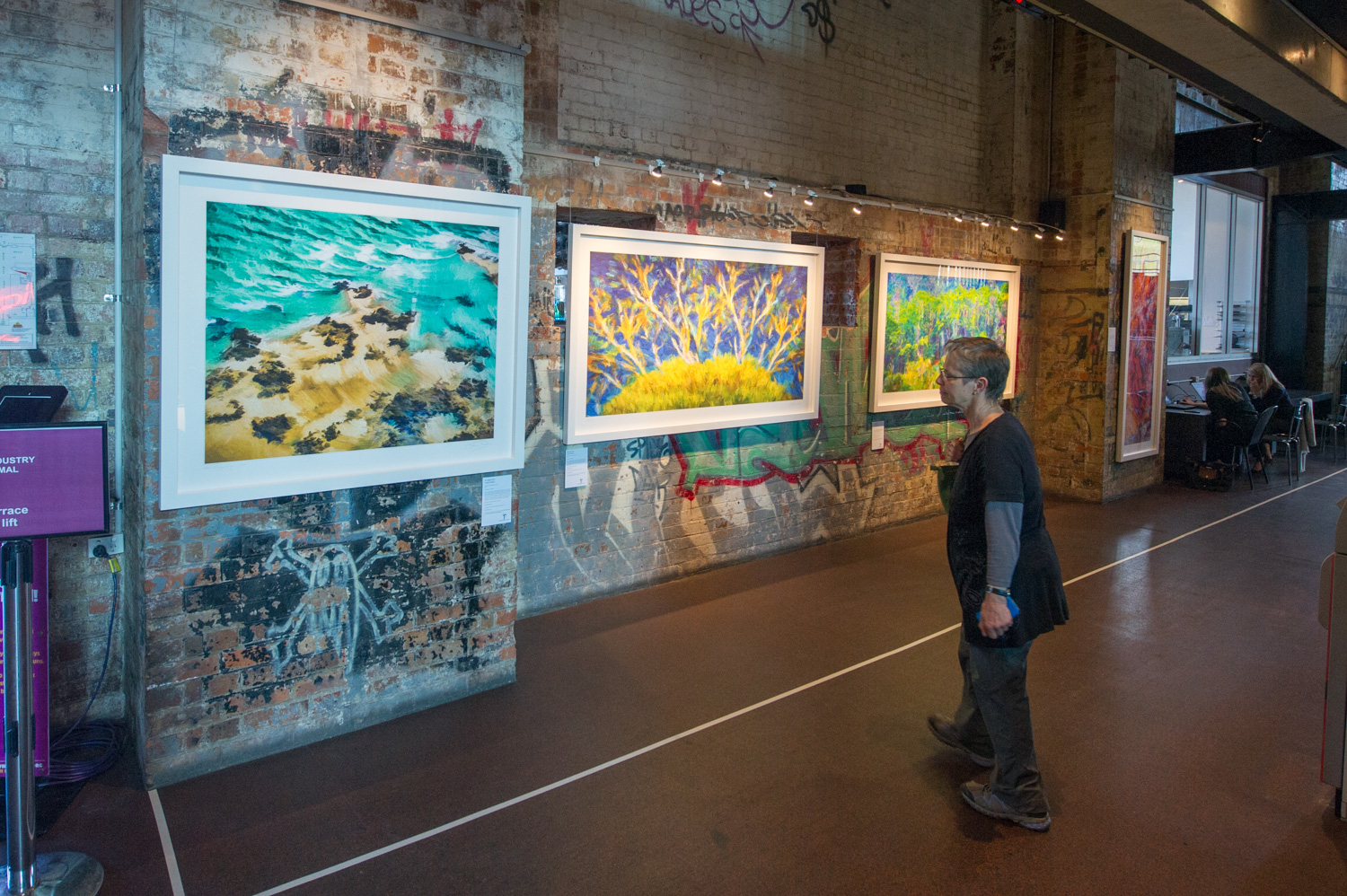 One of my early exhibitions was in the Brisbane Powerhouse. The graffiti coloured walls were part of the heritage of the building and so I chose chunky white frames and wide white print mats to help the prints stand out. Themed images, like these waterbirds from the 'Steve Parish Fine Art Birds' Collection below, can also be strengthed as decor when a frame and mat are coordinated.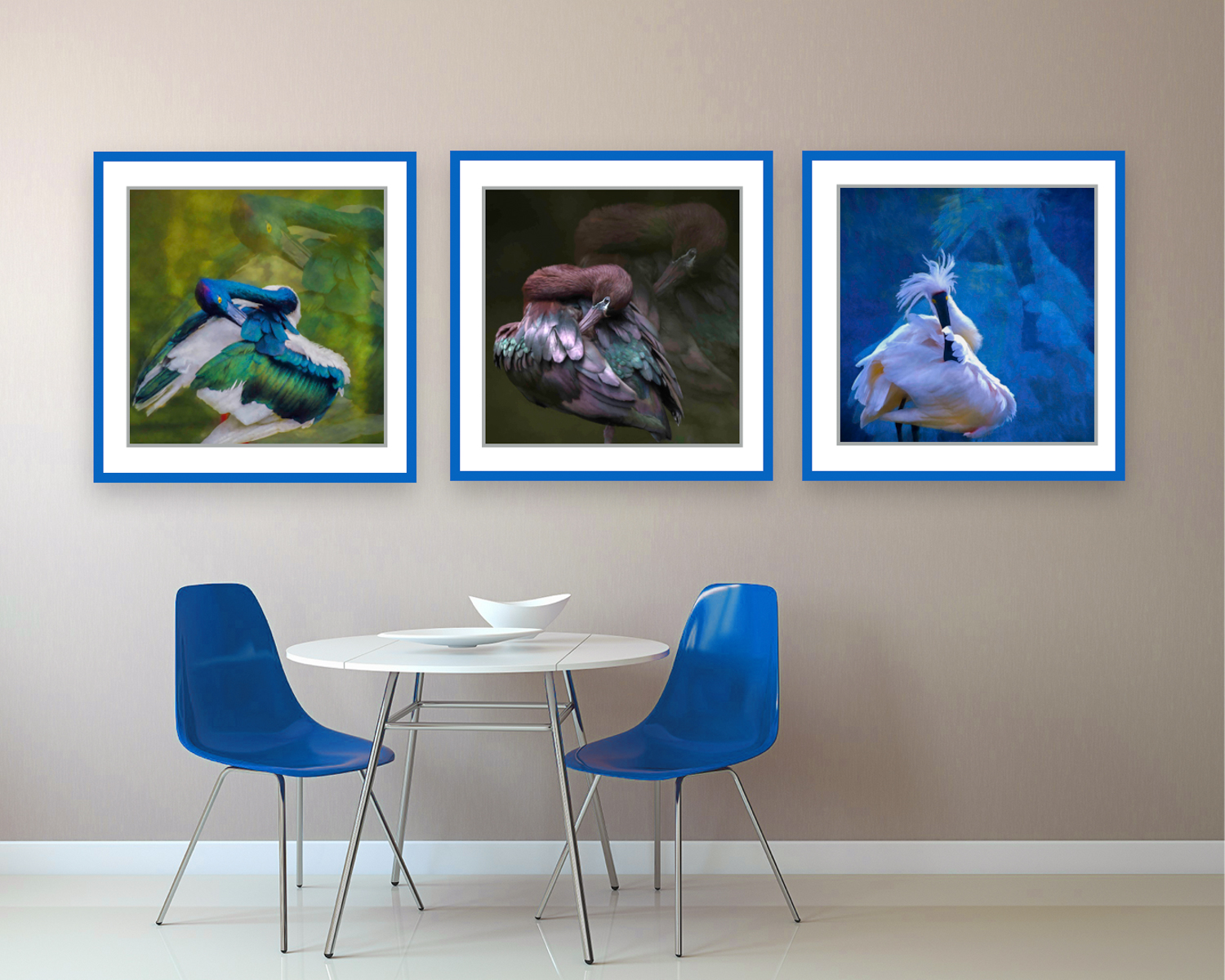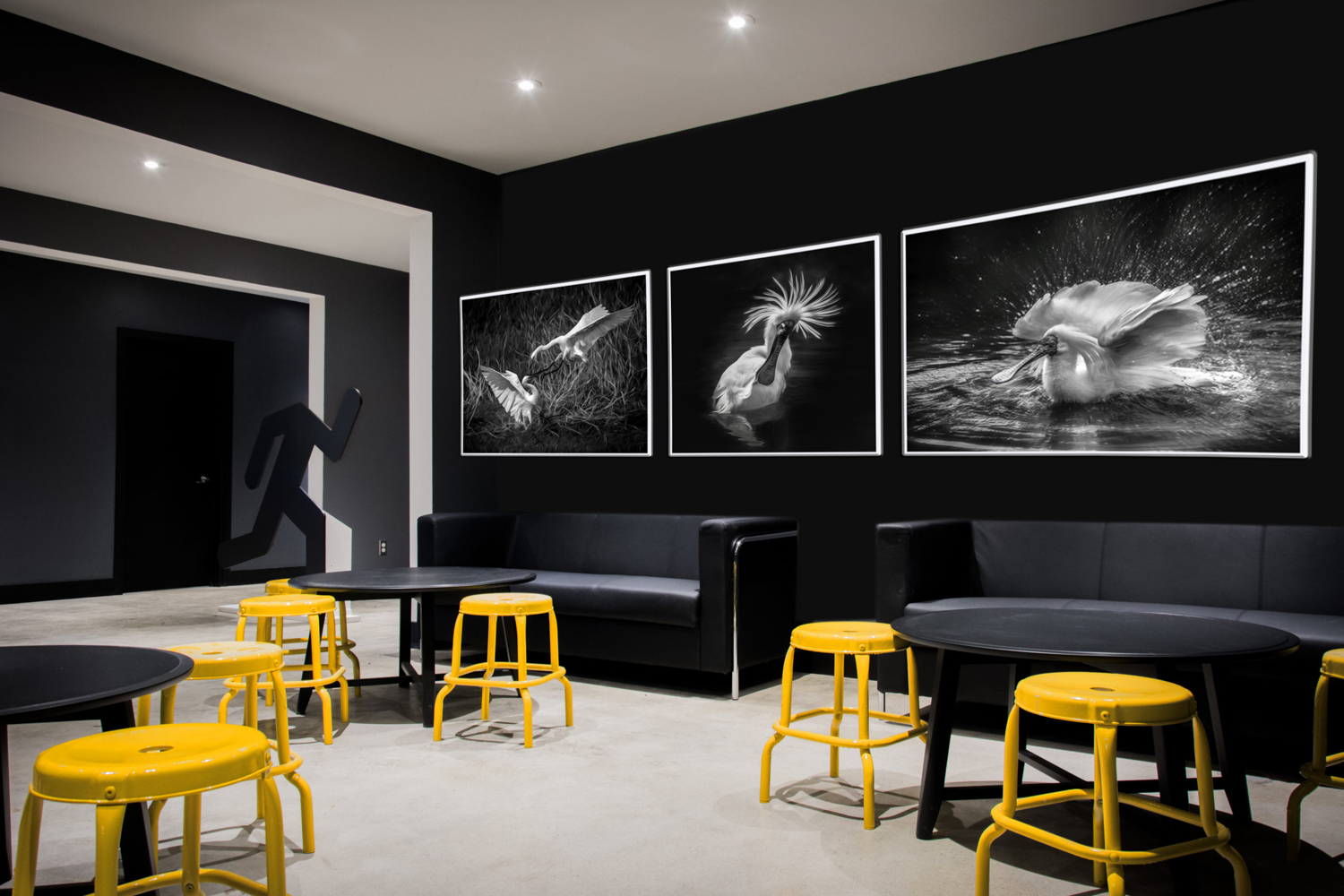 Decorating with black and white images
Black and white photo art has a very long history. Early in my career, black and white photography along with darkroom processing was my primary focus. In terms of decor and nature photography, I started to see it coming back into vogue in the early 2000s. A colleague, who has been photographing multi-million dollar homes for magazines for decades said that it was common to see interiors that have focussed on minimalism in terms of decor that featured big, bold graphic black and white images.
Choosing Art For Rooms
Choosing artwork and the various sizes, finishes and image colours and themes is, of course, an entirely a personal choice and in most circumstances, unless you live alone, it may well be a collaborative exercise. I know in my house I have encouraged my partner to take control of the decoration of the home; although to be perfectly honest I didn't have much say, she is a force of nature! My spaces, my studio and so on, are mine and I choose images that excite my creative imagination. What I have wanted to do here however is suggest considerations you may like to make as you move from room to room.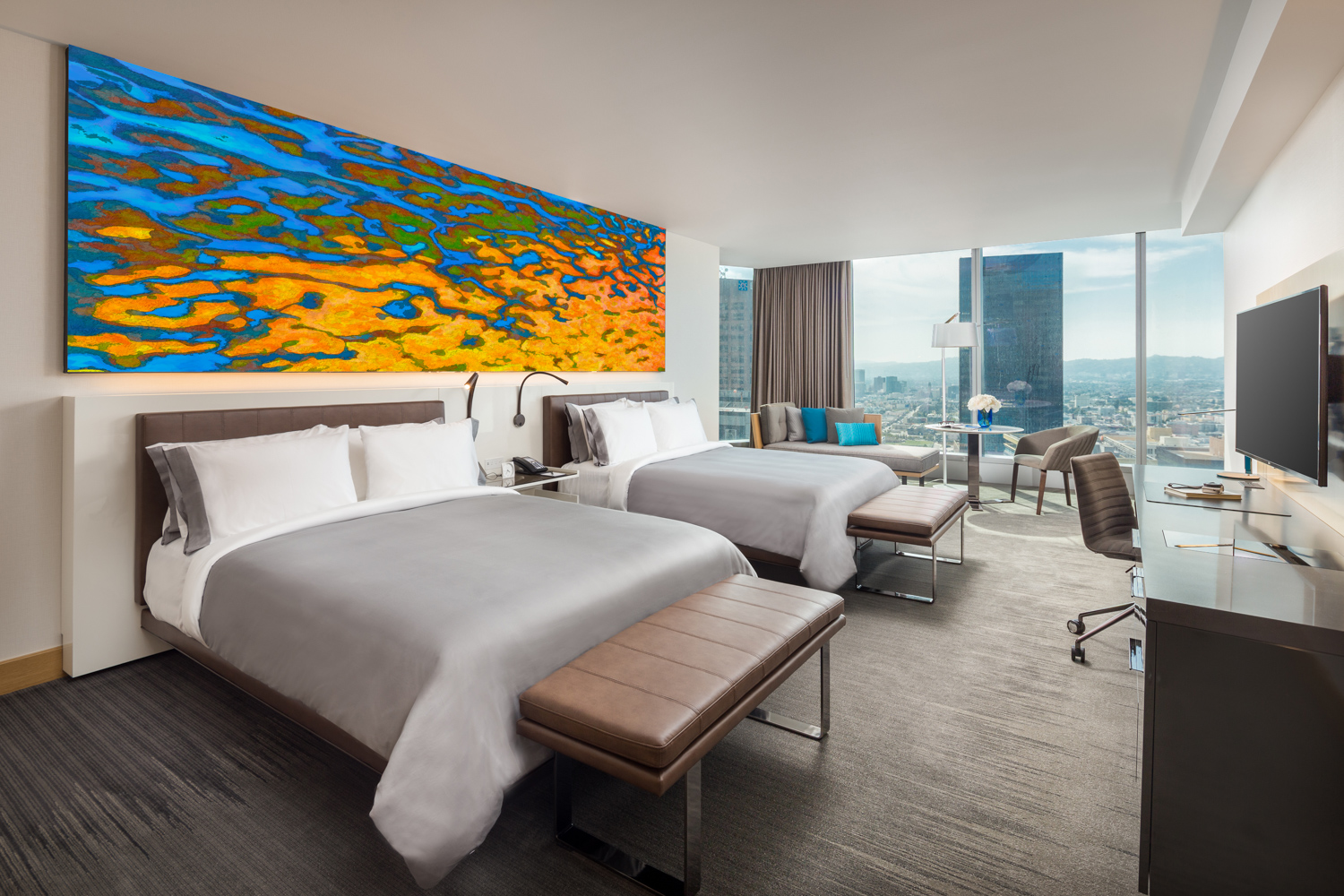 The Bedroom
The bedroom is an escape, an exclusive retreat that you may choose to as many do to relax during your evenings. As such the use of images may be muted, reflective in style. The sorts of images that you can stare at endlessly. This room is about relaxation, and the artwork should reflect that. The best walls for art in the bedroom are directly over the bed or on the wall opposite the bed. Large scale pieces are best and should be hung at eye level. Whether abstract or realistic pieces, soothing colours or tones or bold graphics depends on the sorts of images you like to stare at and get lost in. Of course, the framing and finish is a personal choice and could simply reflect the items that particular to you in your individual room. In the cases above one is graphic and modern and the other subdued and ornate and so the framing and image choices have been chosen to correspond.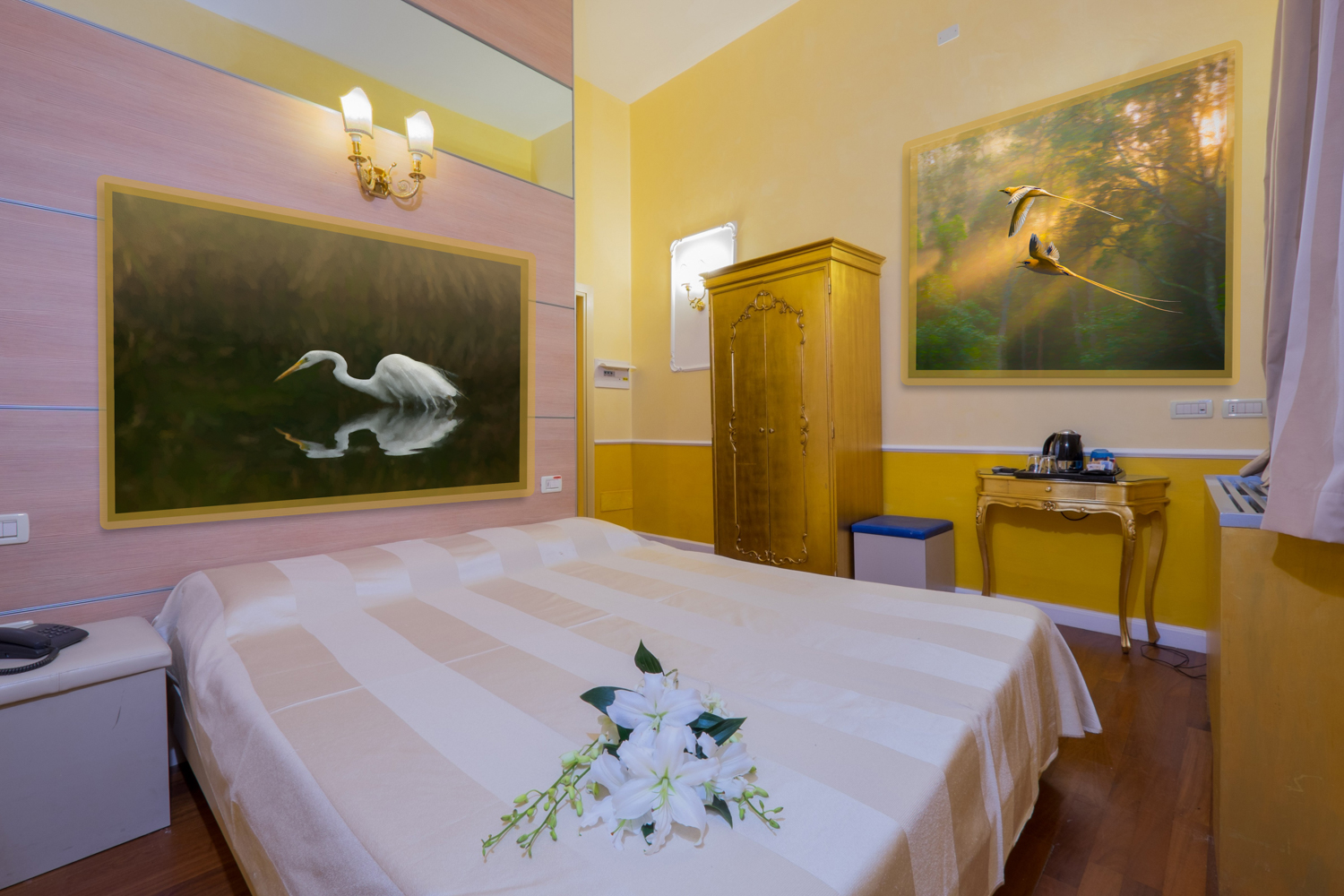 The Bathroom
Usually neglected for art, however, the advancement in specialised moisture resistant print finishes like acrylic and metal provide a wide range of opportunities for the decoration of this room. My personal preference is an acrylic finished wall mounted image with no frame. Perfect for hanging where it is visible as you can lie back in the tub and let your thoughts drift; in the case of the image above, down the beautiful wild Piemen River in Tasmania. Wow, what a way to finish the day!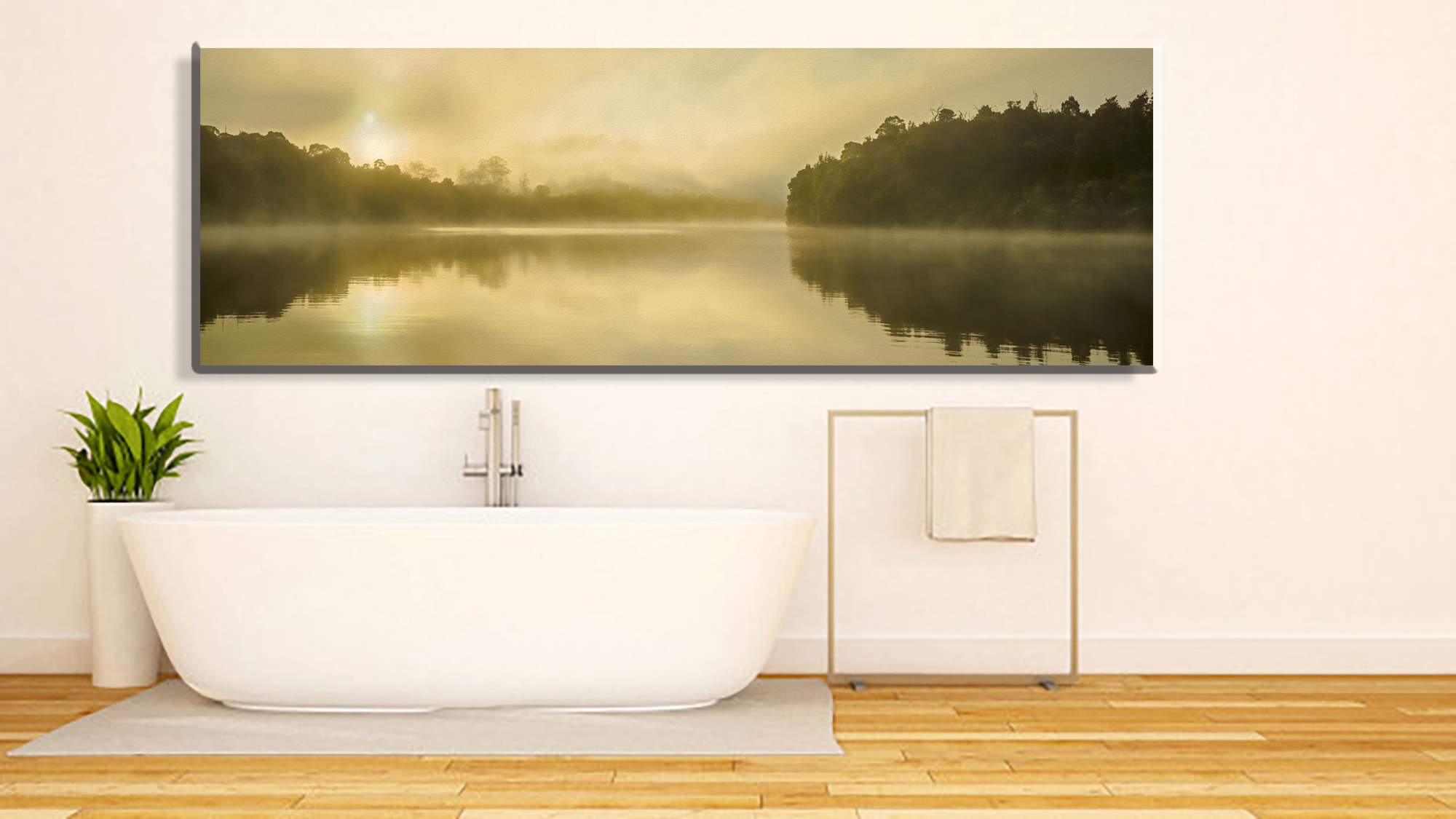 The Living Room
Main living rooms are usually the rooms that receive the most focus for wall art. Of course, these rooms are family rooms and also the places we entertain our guests so it is understandable that they can be a challenging room for decision-making and may involve a family decision.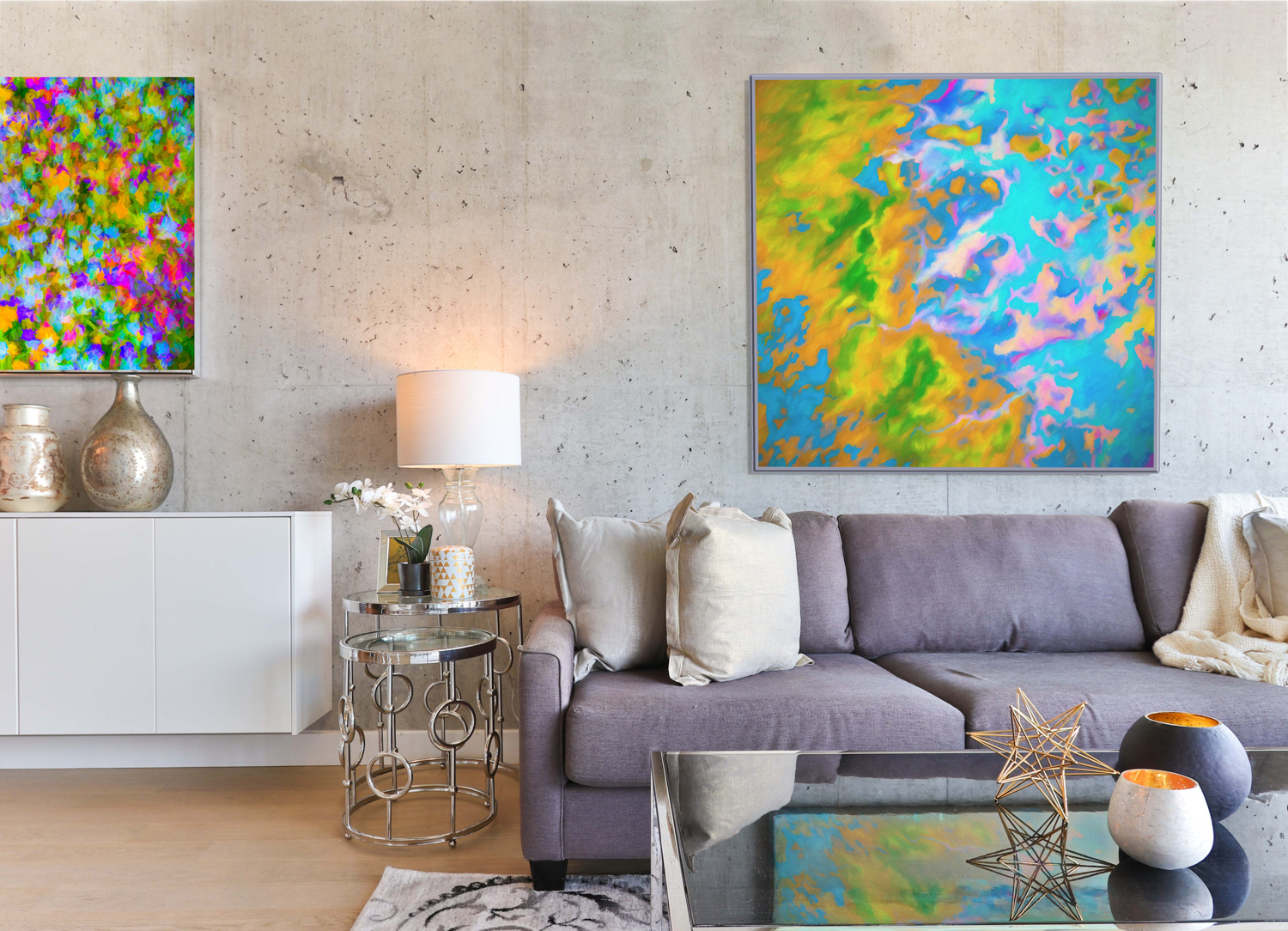 Considerations for wall colours, framing (or not), and of course, the content that most pleases your from an emotional perspective will all be part of that choice. Scale and ratio are other considerations. The image above shows a 1:3 panoramic and a 3:4 print ratios showcasing images that reflect the golden hues already integrally part of the room. Below a different approach. Here graphic, colourful images in a subdued loungeroom setting work very well.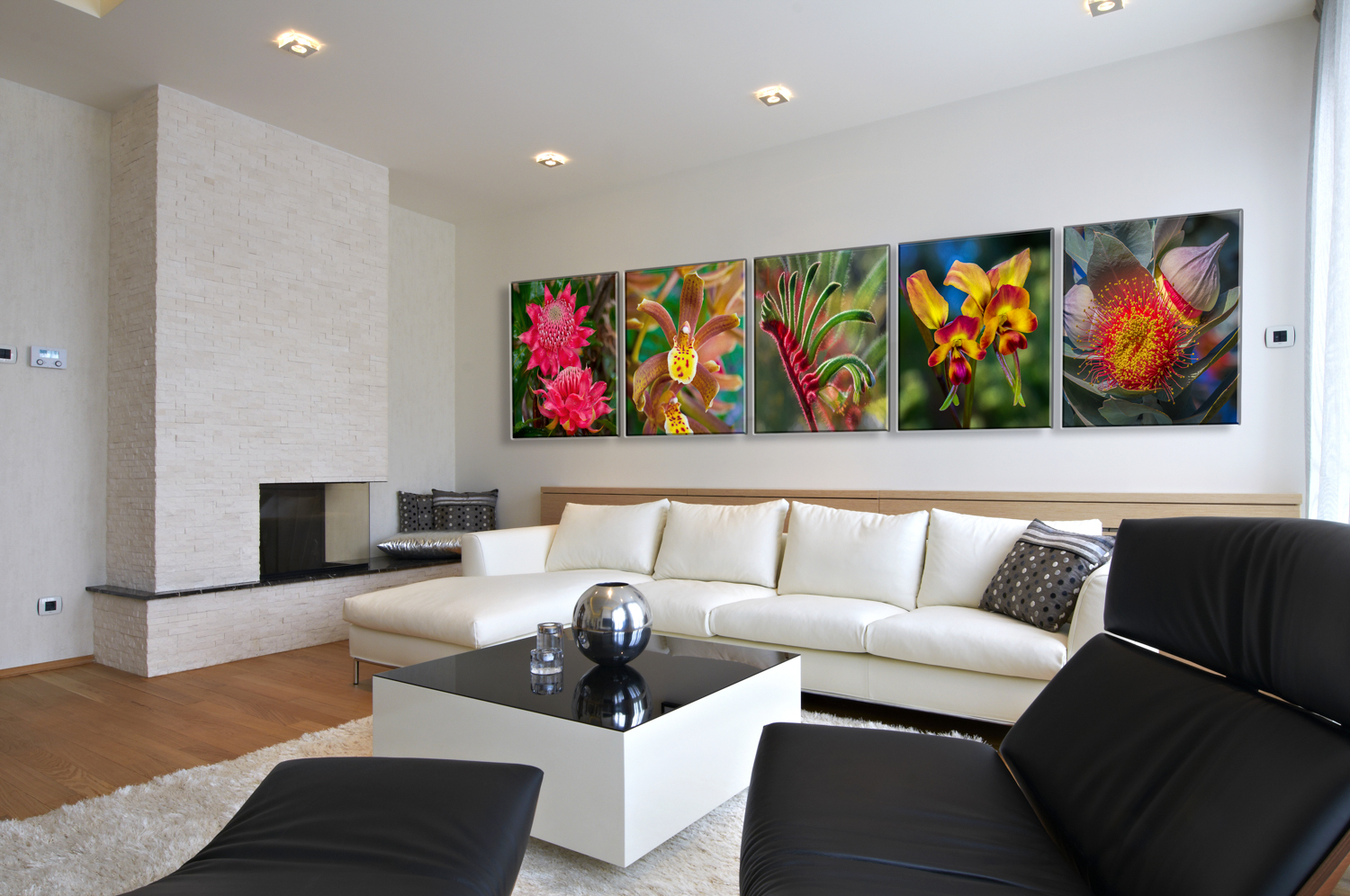 Children's Rooms
Let's not forget the room that for many is vitally important, their children's rooms. My career was launched on the back of the images on my bedroom wall as a child. My father gave me permission to cut up his National Geographic Magazines after he had read them; Dad was never a collector of anything in his life. It was a wall festooned with underwater photographs I am sure that influence my love for and ultimate passion for sea life. The wildlife collection is a great place to start looking for images that will suit the rooms that the little people in your life sleep and play in. Maybe they can choose for you!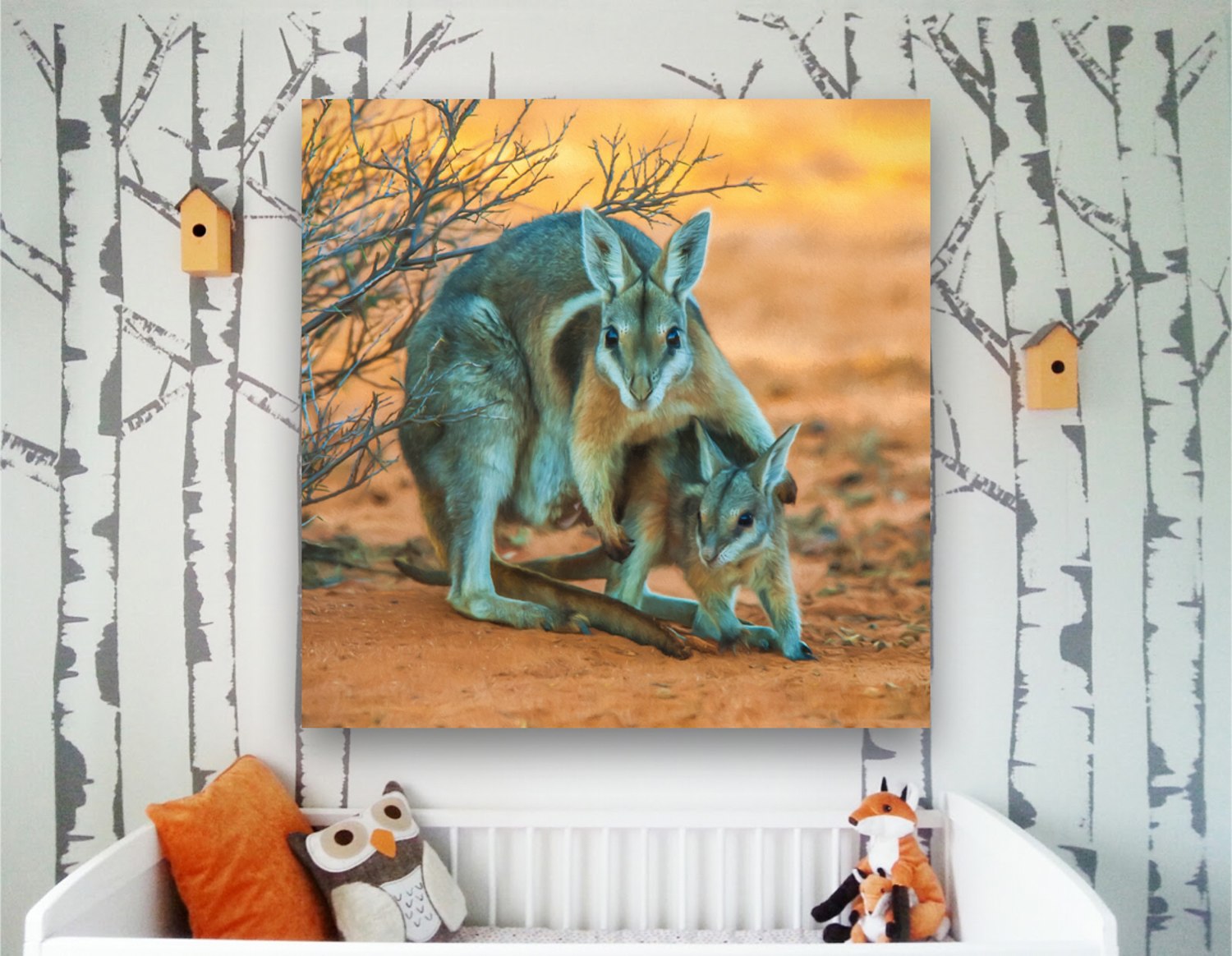 Kitchens and dining rooms
One of the most commonly forgotten rooms in terms of artwork is the kitchen. The kitchen is often referred to as the "heart of the home" and in many cases, the most used room of the house. There is no question, art needs to be incorporated here. Kitchen splash-backs, countertops or island facies are perfect for creative art panels (see below under customised decor).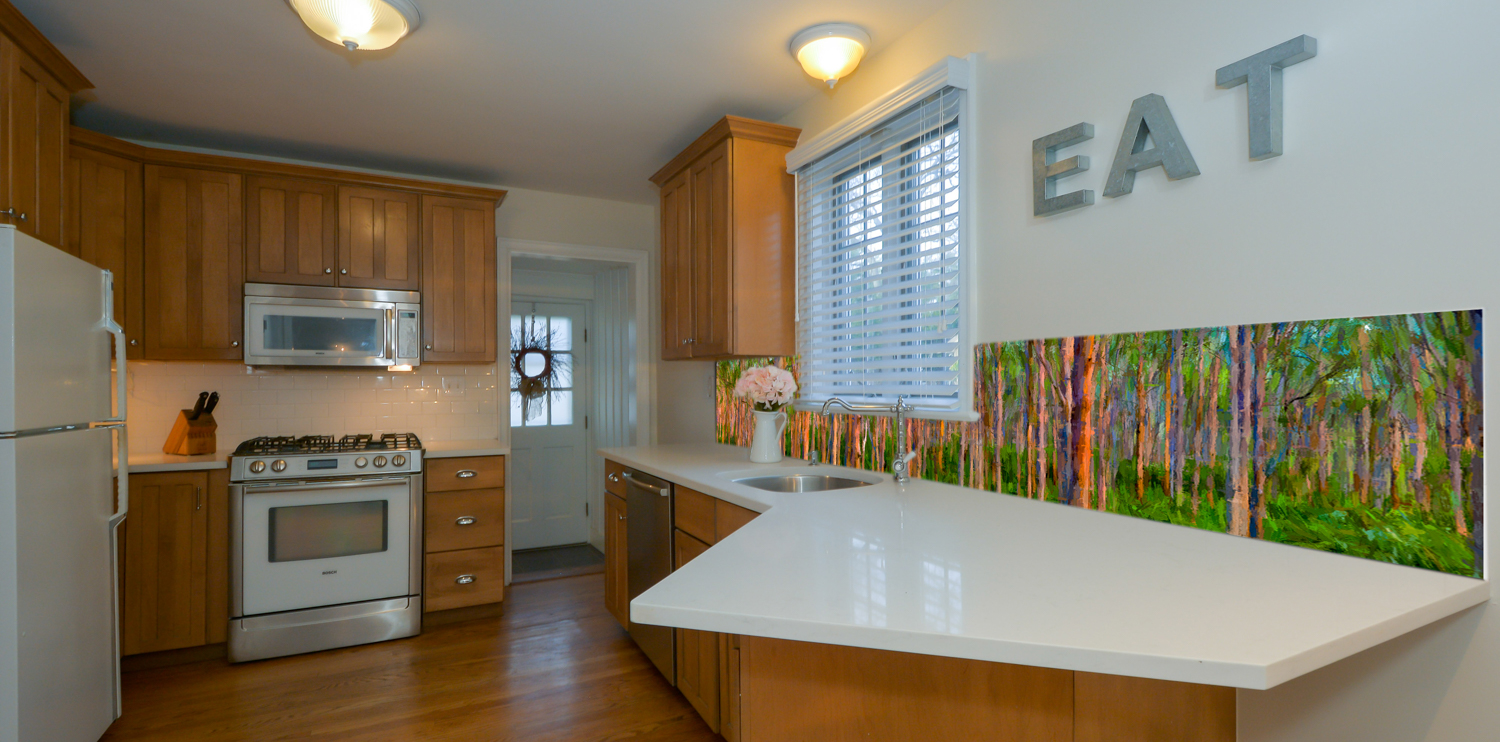 Commercial and customised decor
Offices, boardrooms, lunch rooms, kitchen and bathroom splashbacks, special reception areas can all be organised through Prolab, our production partner in this 'BRING THE FEELING OF AUSTRALIA INTO YOUR HOME OR OFFICE' project. We can also work with you producing customised sizes as required. Customised decor may also involve alternative print sizes and specialised framing and printing are available through Prolab our printing partners. In addition to these services image selection to themes is also a service offered.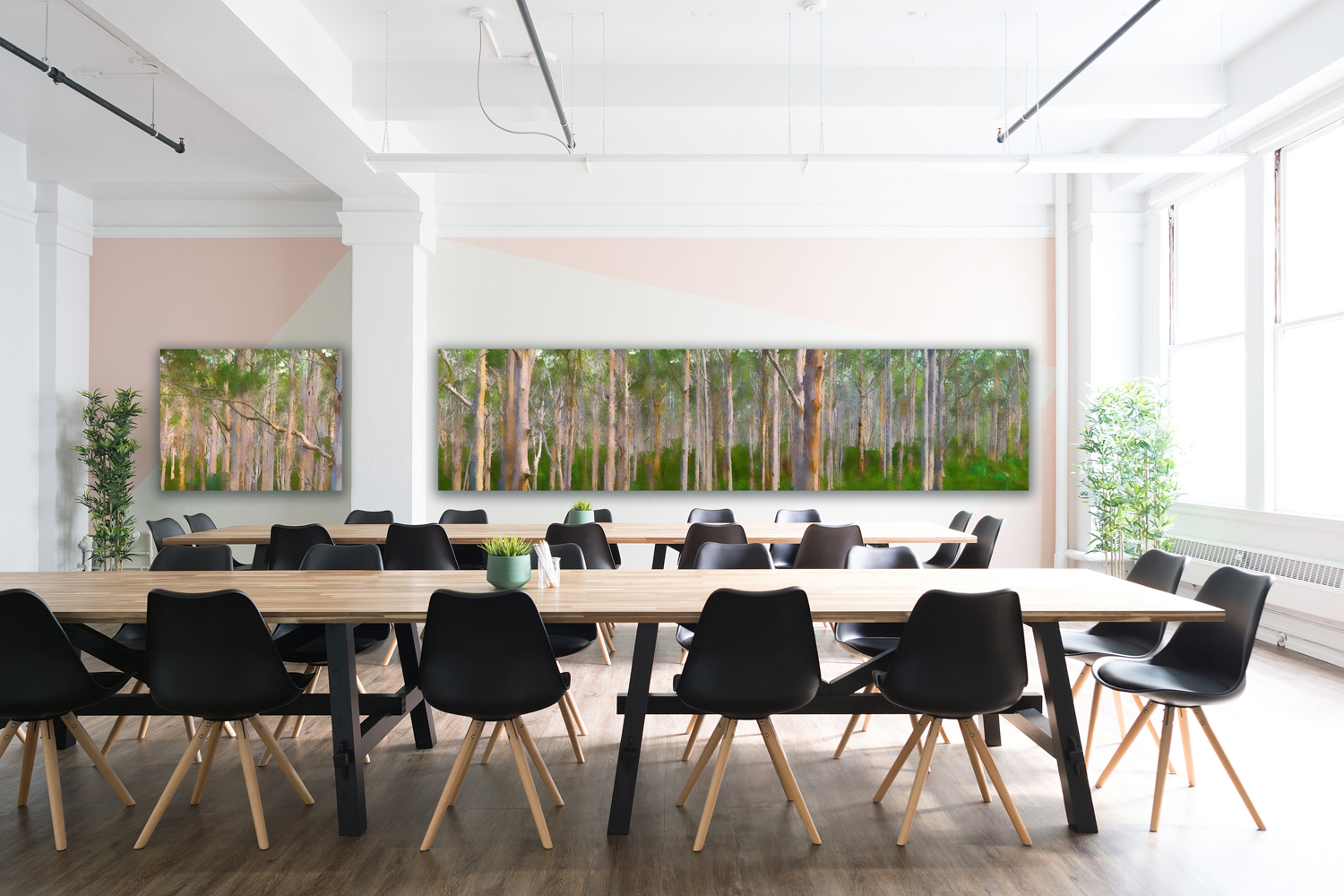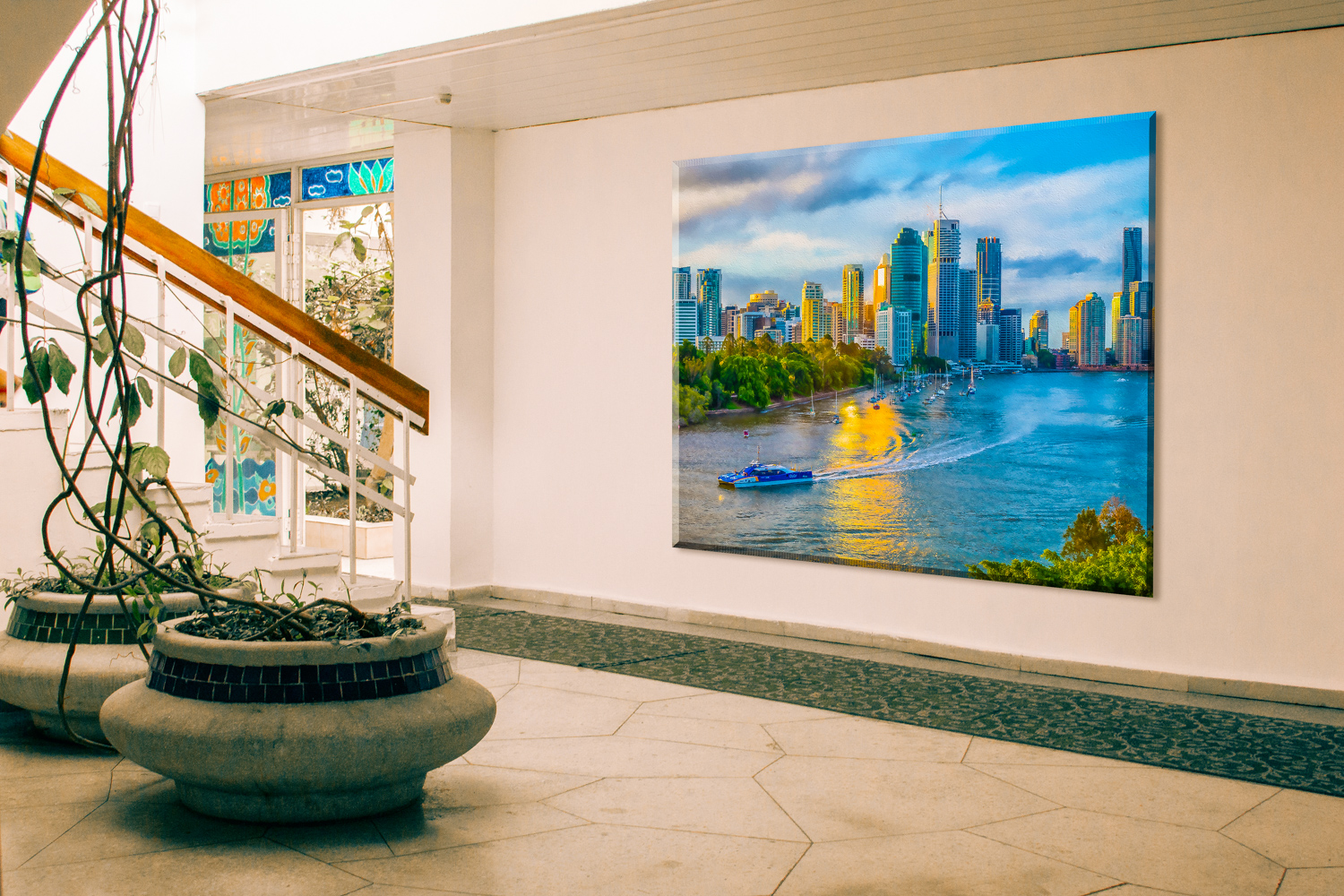 The Steve Parish Nature Connect Photo Library has a major collection of regional city, town and country images, images that may not be in the main Gallery so do not hesitate to make contact. Steve will be happy to work with major clients wishing to decorate public commercial spaces like hospitals, restaurants, retirement homes and office foyers.